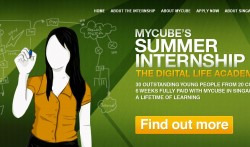 If college grads of the last five years had it to do over, most would still go to school, but they would pick different majors and get more internships.
That bit of wisdom from the classes of 2005-2010 comes too late to help this year's crop of grads. And even for underclassmen, picking a major solely because of job prospects is probably advice easier given than taken. Not everyone has the aptitude for computer science, or mathematical ability for engineering.
On the other hand, the advice about internships is spot on. The National Association of Colleges and Employers says employers in a recent survey reported 39.1 percent of their entry-level hires from the Class of 2010 came from their own internship programs.
Of their interns, 58 percent were hired into full-time jobs. "That's the highest conversion rate we've seen since we started tracking this on an annual basis in 2001," says Marilyn Mackes, NACE executive director.
Good news, then, for those who manage to find internships. Finding work, however, is likely to be as challenging this year as last, says a report from CareerBuilder.
The company's annual Summer Job Forecast says 21 percent of employers plan to hire seasonal workers this summer, about the same percentage as last year. More than half of these employers (57 percent) expect that some of the positions will be or could become permanent, making competition even keener than it might otherwise be.
CareerBuilder's survey says 58 percent of employers will pay more than $10 a hour; 8 percent will pay better than $20; 31 percent will pay between $8 and $10.
What's the best way to land a job? Hiring managers told CareerBuilder that being specific about accomplishments, whether in previous jobs or in school or volunteer work, is most helpful (55 percent). Referrals and interest in the company were mentioned by 37 percent and 35 percent respectively.
And don't forget to send a cover letter and a thank-you note. Each was lauded by about a quarter of the surveyed managers.
If you want to spend six weeks interning for startup MyCube.com, a self-described "social exchange," you'll need to do more than what those hiring managers suggest.
Headquartered in Singapore, where 30 interns selected from 20 countries will spend the summer, MyCube is offering $3,000 Singapore ($2,418 U.S.), plus housing, plus airfare, plus a shot at a $10,000 grant. Applicants have to tweet about why they want the internship, submit an article or video, and fill out an application.
What's the internship for? The site says the interns get "training in company formation, fundraising, product development, marketing, financial management and more."
No doubt the intern program is part PR, part awareness building, and part goodwill for MyCube.com, an in-beta site that explains its purpose is to provide a place for individuals and group to " store and share their information, updates, and content with others, while retaining full privacy, ownership, and control."
Just what that means isn't at all clear. However, its founder and president is Johan Stael von Holstein, a successful entrepreneur and tech visionary, who has been involved in a number of ventures in his native Sweden. He's been a speaker at the World Economic Forum in Davos, Switzerland, which also named him a technology pioneer.