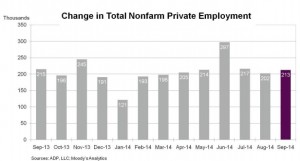 With the announcement this morning that September's private company payrolls grew by 213,000, economists are optimistic it foreshadows an even more robust government report due Friday.
HR services and payroll processor ADP and its partner Moody's Analytics, said 213,000 new jobs were created in the private sector last month, up from August's revised 202,000 estimate, and just above economists' predictions of about 209,000.
"All the leading indicators for the job market look good," said Mark Zandi, Moody's chief economist. He predicts the Labor Department will report 220,000 total new jobs were created last month, an estimate shared by economists polled by MarketWatch, and not much higher than the Bloomberg estimate of 215,000.
Zandi also predicted the government will dramatically revise upward its initial estimate of 142,000 new August jobs, coming in close to 200,000. The Los Angeles Times observed that for the last four years the Bureau of Labor Statistics has revised up by an average of 80,000 its initial August numbers.
According to ADP, September job growth was spread almost evenly across all industry sectors. Financial services, a sector still in recovery from the massive layoffs of the recession, grew by 5,000 jobs. The other four sectors improved by double digits each:
Construction 20,000
Manufacturing 35,000
Trade/transportation/utilities 38,000
Professional/business services 29,000
Job growth also was strong among business of all sizes. The largest employers, those with more than 1,000 workers, added 73,000 workers. That's the biggest increase since November.
Small employers, with fewer than 50 workers, added 88,000. Employers with 50-499 added 48,000.
"September's jobs added number marks the sixth straight month of employment gains above 200,000," said Carlos Rodriguez, ADP president and CEO. "It's a positive sign for the economy to see the 200,000-plus trend continue."
In another jobs report, the business research group, The Conference Board, said the number of jobs advertised online in September fell by 137,200.
"The September loss offsets most of August's gain, resulting in only modest overall growth for 2014," said Gad Levanon, Director of Macroeconomics and Labor Markets. "Following a strong second quarter, the third quarter has ended basically flat."
Of the 10 largest occupational categories, The Conference Board said seven had declines in the number of job postings. Increases were registered only for computer and math jobs, up 9,600, architecture and engineering, 3,400, and in healthcare, 12,200.
The Conference Board's Consumer Confidence Index declined sharply in September after rising in each of the last four months. The Index now stands at 86.0, down from August's 93.4.
Several components that go into computing the Index were down, including the percentage of consumers expecting business conditions to improve 20.8% to 18.6%. Those expecting business conditions to worsen rose from 9.9% to 12.0%. Those anticipating more jobs in the months ahead fell from 17.8% to 15%, while those anticipating fewer jobs rose from 15.2% to 17.8%.