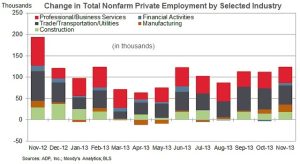 Handily beating predictions for a modest jobs increase last month, ADP reported this morning that the U.S. private sector added 215,000 jobs in November.
That estimate, derived from the millions of paychecks ADP processes each month, was 40,000 to 50,000 jobs higher than surveys of economists predicted. ADP, and its partner, Moody's Analytics, also upped the initial job counts for September and October by 93,000 more jobs.
Small businesses, those with fewer than 50 workers, added 102,000 new jobs. The largest employers, those with more than 1,000 employees, added 70,000 jobs.
Among the industry sectors ADP tracks, the largest growth came in trade, transportation and utilities with 45,000 new workers. Close behind, however, was the professional and business services sector, which includes temp workers, with 38,000 new jobs.
November's private sector increase was the largest in a year and bodes well for the official Labor Department jobs report to be released Friday morning in Washington. Economists expect the government will report the economy grew by 180,000 jobs in November. The Labor Department report includes government jobs, in addition to private sector employment; ADP counts only private sector jobs.
Through October, the U.S. has added, on average, 186,300 new jobs each month. That compares to ADP's numbers, which put the average private sector growth at 166,600 for the same period.
Worries that October's government shutdown would cause a slowdown in hiring proved unfounded as all sectors of the economy registered job gains. Manufacturing in particular showed strong growth, adding 18,000 new jobs, which was the largest increase since February 2012.
"The job market remained surprisingly resilient to the government shutdown and brinkmanship over the treasury debt limit," said Mark Zandi, chief economist of Moody's Analytics. "Employers across all industries and company sizes looked through the political battle in Washington. If anything, job growth appears to be picking up."

That was evident in the job posting totals for November announced by The Conference Board this week. Online advertised vacancies were up 244,700 in November to 5,171,500, according to The Conference Board Help Wanted OnLine Data Series.
Job postings have seesawed all year, notes June Shelp, VP of The Conference Board. Job posting gains have been largest for sales (up 101,000 on the year), transportation (up 71,000) and food service (up 54,000 jobs). Manufacturing job ads online have grown by 7,000, modest in comparison, but a positive sign for an industry that Bloomberg News says, "has been a source of strength for the economy."
The Institute for Supply Management reported Monday that its production, employment, and new orders metrics all increased in November,  sending its PMI to the highest level for the year.
"With 15 of 18 manufacturing industries reporting growth in November relative to October," said Bradley J. Holcomb,  chair of the ISM's Manufacturing Business Survey Committee, "the positive growth trend characterizing the second half of 2013 is continuing."