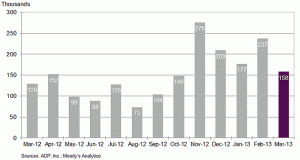 ADP says the U.S. economy added 158,000 private sector jobs in March, an estimate well below what economists were expecting and a drop of almost 80,000 from the revised February number. It's the smallest job growth reported by the HR services and payroll processing company since October.
Surveys of labor economists done before today's report was released showed they were optimistic about March's job growth. Bloomberg's survey put the average prediction of 39 economists at 200,000.  USA Today estimated 215,000.
However, no growth in construction jobs and a big slowdown in hiring since February in the trade, transportation and utilities sectors kept job growth below the last few months, and just barely above the average of 152,000 for the last 12 months, as reported by ADP and its report partner, Moody's Analytics.
The big gains came from the smallest employers. Those with fewer than 50 workers collectively added 74,000 new workers. Those with more than 1,000 employees added the fewest, 20,000.
Nearly all the jobs came from the service sector, which grew by 151,000.  Goods producers, including construction and manufacturers, added only 7,000 new jobs, far below February's 39,000 and the lowest number since September when the sector dropped 4,000 jobs.
"The job market continues to improve, but in fits and starts," said Mark Zandi, chief economist of Moody's Analytics. He blamed the end of the surge in Superstorm Sandy repair work in the east for the construction slowdown. But with the March numbers not too far off the 178,000 average monthly gains of the previous two years, Zandi said, "I don't think anything substantively changed in the month of March."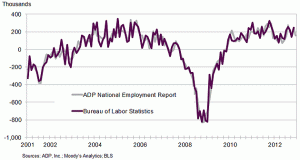 He expects Friday's government report to show March job gains close to that monthly average.
Based on payroll data from hundreds of thousands of private firms which collectively employ some 24 million workers, the monthly ADP National Employment Report is looked to as an early indicator of what the official Labor Department numbers will show when they're released on Friday.
Economists surveyed before today's ADP report was out, predicted the official report, which includes government workers (ADP counts only private sector jobs), will be in the 200,000 range. Typically, economists don't revise their estimates based on what ADP's report says, however, it does worry investors and analysts who prefer a more upbeat labor report.