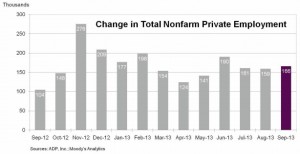 With the shutdown of the Federal government, the ADP report this morning that the U.S. economy added 166,000 private sector jobs in September takes on even greater importance than it normally would.
Until the shutdown is resolved, ADP's numbers will stand as the only measure of U.S. jobs growth. Typically, ADP releases its job count estimate a day or two in advance of the official report from the U.S. Department of Labor. That report, which includes a count of government jobs, also details the national unemployment rate and provides  drill-down data on the size of the national labor force, as well as an industry-by-industry look at job growth.
However, the Bureau of Labor Statistics, which compiles the data and releases the report, posted a notice on its website declaring, "During the shutdown period BLS will not collect data, issue reports, or respond to public inquiries."
ADP's report, which also revised downward August's numbers from 176,000 to 159,000, was lower on average than what economists were expecting. Surveys by various business media put the expected jobs number in a range from 178,000 to about 180,000.
Blooomberg quoted Scott Brown, chief economist for Raymond James & Associates Inc., saying, "The labor market is not weak but not as strong as we'd like. There's a lack of traction. It's a sign things have slowed down a bit in the economy."
The majority of the job added in September came from businesses with fewer than 50 workers (74,000) and the largest employers, which added 64,000. Employers with 50-500 workers added 28,000 new jobs.
The service sector added 147,000 jobs; 19,000 were added by goods producers, including 1,000 in manufacturing.
Mark Zandi, chief economist of Moody's Analytics, which partners with ADP on the monthly reports, said, "The job market appears to have softened in recent months. Fiscal austerity has begun to take a toll on job creation. The run-up in interest rates may also be doing some damage to jobs in the financial services industry. While job growth has slowed, there remains a general resilience in the market. Job creation continues to be consistent with a slowly declining unemployment rate."
According to the report, here's how the job changes broke down last month:
Construction 16,000
Manufacturing 1,000
Trade/transportation/utilities 54,000
Financial activities -4,000
Professional/business services 27,000
Particularly telling in the results, said Zandi, was the strong growth coming from the smallest employers. Discussing the numbers in a conference call, he said there's no indication at this point that small employers are hesitating in bringing on more workers. There had been predictions that this sector was most sensitive to the provisions of the Affordable Care Act, requiring employers with more than 50 workers to provide health coverage or pay fines.
Another economic tell is The Conference Board's Help-Wanted On Line data, which showed September had the biggest increase in advertised jobs this year. The 209,700 jump dwarfed January's previous high of 125,700 new listings, and was the second highest increase in more than 18 months.
The Conference Board's Consumer Confidence Index declined slightly in September to 79.7 from 81.8. Among the multiple components that go into the Index, consumers' assessment of the job situation improved in September. Those saying jobs are "plentiful" increased to 11.5% from 11.3%, but even more significantly, those saying jobs are "hard to get" decreased to a five-year low of 32.7% from 33.3%.
Tomorrow, the Society for Human Resource Management releases its monthly LINE report, predicting recruiting activity during October.