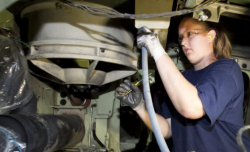 "Civilian Life."
These are two words that can strike fear into a veteran. Yes, the same veterans who have seen unspeakable tragedy defending our country from enemies foreign and domestic. One of the few things that can scare those brave souls is coming back home.
Why? Several reasons associated with post-traumatic stress disorder have already been chronicled, but another source of real concern for our heroes is employment. Getting a job places more worry upon those men and women than just about anything, because while they come home to a country with open arms, several of those soldiers go to a home with a family doing the same.
They want to provide for their family but they have to get a job once their tour is over. According to the U.S. Bureau of Labor and Statistics, unemployment rates among veterans who have served in the Gulf War of 2001 (Gulf War-Era II) and later is 9.0 percent, which equates to more than 700,000 people — individuals who have bravely served our country. Among that, 60 percent are 45 years of age and over. They can't find a job because they don't understand they already have the skills.
Is civilian life that difficult to manage? We encounter candidates on a daily basis looking for work, wanting help with their resume, and hoping one of clients in talent acquisition and hiring will scoop them up. They don't seem to have a problem, so why do our heroes?
Tap Into It
Have you ever heard of a transition assistance program, which is something that has been created to give our veterans job training and employment within 180 days of ending tour or retirement? Neither has most of them. Unfortunately, that one tool is not doing the trick for our soldiers, so there needs to be other tools to give to veterans once they leave a military life into this concerning civilian life.
All military positions have transferrable skills to consider, but those should not be as itemized as they should be prioritized. Squad leaders are teachers. Battalion commanders could be executives. Anyone who repairs those military vehicles could easily find a trade. However, recruiters and talent acquisition managers do not consider transferable skills in terms of a resume — only in terms of fitting those skills into the right job.
We must do better, which is why job applications on a smart phone and temporary placement agencies are not the right fit for the military coming home looking for a job. These heroes require a personal touch – people who understand how to look at skills and find a match for those skills.
A Personal Touch
Few recruiters, hiring managers, or even organizations looking for candidates understand how to employ a veteran transitioning to civilian life. Unfortunately, this severely limits the possibilities in the minds of most military personnel. Some don't look in the right places and get overlooked. Others, don't look at all.
Hiring the military is crucial to these people who have sacrificed so much for our country. The least hiring personnel can do is learn how to hire them. Do they know how to help them overcome transitioning challenges? Do they understand what to tell the client or employer about transition? Do they know how to encourage a veteran to embrace those skills learned in the military and acclimate them to a civilian career?
A mobile application can't do that. A website that just lists jobs can't either. A person skilled in recruiting and talent acquisition can — and should. These men and women just need someone to show them how equipped they are to be employed.
These men and women have enough skills to protect our country. We need to give them the other skills how to secure a job. They need more tools in their belt to make that happen — understanding, comprehension, and mechanisms — all to help them use what they have learned and create new experiences stateside to help protect their family at home.
The government has invested millions of dollars in training these people. Shouldn't other organizations invest a little more to put them back to work? People can do that. We can do that.
Hopefully, by understanding the tools they have to offer U.S. military veterans for civilian life, they will.