The recruiting profession has been on the forefront of people working remotely or virtually for the last decade. This trend is not going to stop anytime soon. If you are one of those people who has to either manage remote teams or work remotely yourself, you also have experienced the challenges associated with this.
The bulk of my leadership career has been about leading/managing teams and individuals all around the globe without being physically there to interact on a daily basis.
The following is what I have learned over the years working within different organizations, different cultural styles around the globe, some best practice ideas from peers, and at the bottom a version of the template that you can download and tweak to make your own.
Let's start by giving you a quick overview and context to the template. Next I will give you a philosophy, best practice tips, and how to use the template to set the right tone for your meetings.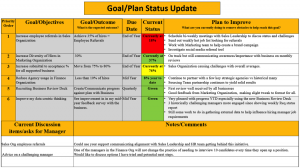 Template Context & Overview
Priority Order column is where you and the employee both agree what is of greater priority to focus on and in what priority order. Everything can't be a No. 1 priority, right? 🙂
The grey shaded part of the template (Goal Objective, Outcome, and Due Date) is where you and your employee agree to the goals, outcomes you are both aiming for, and due dates of the deliverables against those goals. These can be whatever you want (deadline dates, percent against plan, number of X), but try and make it a SMART goal with the emphasis on the M (measurable). More to come on that.
Current Status column is for your employee to complete to discuss how they are currently tracking against the outcomes of the goal/objective. You will want to agree up front what the difference of yellow and red looks like against goal.
The white shaded areas of the template (Plan to Improve) is where your employee updates the status against the goals with some specific details about the challenges (or opportunities) prior to each meeting to review and discuss progress with you.
Discussion items and Notes/Comments section is for the employee to cover the key talking points during the update discussion with the manager. This could be requests for the manager to help remove challenges or roadblocks against reaching the goals, or key items that the employee wants guidance or support on.
The Philosophy
We should ground ourselves in the philosophy of what we are looking for in outcomes here. Most of us roll our eyes at the potential of another form to complete, or more administration to add to the ever growing to-do list. We all just want to recruit, right?
Explain to your team what is the WIFM (What's In It For Me) = Or in this case what is in it for them to have to complete this template:

Or as I like to say, "I don't like grey, so the closer you can get to making something black or white, the better chance people will get it the first time." It helps everyone stay on the same page with goals, priorities, how we are measuring them, and the focus on issue resolution. I am sure we have all come across situations in our careers where we meant one thing and someone (your boss) thought it meant something else. Once it is committed to paper you now have something to reference vs. "he said, she said," or "I thought you meant that vs. this."
Simple to follow. Simple to complete = Gets to the point quickly when it comes what needs discussing, what needs improvement, and what requires the support from you the manager.
Help me help you = Too many times in my career, I have seen too much of a focus on the employee to discuss why something is a problem or not getting done vs. what you can do as a manager to help them be successful. As the employee, it can feel more like a platform to justify (or defend) why things are not going to plan. Where the real focus should be is the actual problem and how can we (employee/manager) collectively solve it. Sometimes it is to guide them to the right options; other times it is giving them the platform to feel comfortable to tell you what you could be doing as their manager to remove the roadblocks to success.

SMART Goals = I am sure most of you have seen or used SMART goals in the past. I won't go into detail on what they are here, as you can Google them if you want to. In short, you want clear definitions of goals/actions, what success looks like when completed, and when we expect it to be delivered by.

Current Status of green, yellow, and red. Similar to my previous article on The Ultimate Talent Acquisition Scorecard, I lean toward Green being at, above, or on track to meet the goal/objective. Yellow is less than 10 percent off track, with Red equaling 10 percent+ off track. Of course this is up to you as to how you might want to define yellow and red, but make sure that — like defining goals and outcomes — you clearly define these as well.

Prioritization = Everything cannot be a No. 1 priority, and what we start out with as a best intent at the beginning of the year changes. Things get added to the list, so maintain an ongoing dialogue as to the priorities and the potential re-shifting of these priorities. Once again, it's back to clarity of the goals and objectives so people don't end up in that state of "I thought you meant that, not this."
Best Practice Tips
The following list is of lessons learned, feedback from people I respect, and overall what I have historically seen gets better traction and results over the years.
Don't (you or your team) overthink or over-engineer the template. The better job you can do to keep the details to one page, the better job everyone gets at being concise at framing the goals and plan to remove obstacles reaching the goal.
Be flexible how you use the template. We all know people are not all at the same level of proficiency. When you have those employees who get it and consistently deliver, don't freak out if they don't provide as much detail on each part of the form. Where the form really helps is for new or junior people … especially those employees who struggle to stay focused, on track, and provide details around their lack of progress on something. I'm sure you have very few of these people anyway 🙂
Find a cadence that works for each individual. People who were good at understanding the goals understood the priorities and proactively knew what was needed to remove a roadblock. They only needed a formal monthly check-in with the template. Those people who were struggling and needed to improve — we would meet weekly. What meeting weekly with under-performing people would cause was a laser focused need to show continually progress, even if it was tactically small steps at a time. Which leads us to …
Actionable accountability. When I had employees who struggled translating higher-level objectives and goals to actual action plans, I would tweak the template to make the focus more tactical in nature. Example: If the challenge was that a recruiter was not getting enough candidates at the top of the funnel and we agreed that this was related to not making enough calls, then the template would reflect a goal of x amount of calls a week. During the next catch-up meeting we would discuss progress (Current Status column) and dig in deeper to the challenges associated with why they might not be meeting those targets. The quicker I could identify the real problem and challenges, the more effective I became as a manager.
But Rob, we already have a performance management framework and tool! Some of you might work for a company that has a robust performance management framework already in place where you are asked to create SMART goals at the beginning of every fiscal year. Great, if that is already in place, then the higher-level goals and action plans will probably reside in that tool. That said, I also have seen historical challenges where employees fill out their goals and plans for the year, and then that document sits and gathers dust only for people to come back to update them as part of the annual (or mid-year) review process. If you are having challenges with certain individuals in a remote environment even with a performance management framework in place, then you seriously might still want to think about using the template but make it more tactically actionable similar to the previous example. The old adage of "out of sight, out of mind" amplifies itself with remote workers, so I challenge you to ask yourself, even with a performance management framework in place, are you getting the outcomes you need to manage your function?
Yes, a manage-up template. I have had people tell me in the past that they took this template when they went to another organization and would provide their new boss with progress and updates using this template approach. I'm sure we have never had a boss who was all over the map with goals and priorities, right?
Use the template even when meetings get canceled. We all get busy and fire drills pop up from time to time that cause us to have to cancel our employee catch-up calls. It's the same with employees needing to deal with an urgent matter on their side. History has shown me that just because your catch-up meeting gets canceled, it is no reason not to receive the update via email. Make sure you create accountability about completing the template, as you can still review and provide feedback or input over email vs. letting things potentially slip and problems start compounding. If you are serious about the template and its importance, then your team will be too.
Treat people as adults. One of the historical challenges with old-school leadership is the idea that you need to see people in an office to be able to monitor their work. That's B.S. If you are clear with what the goals and objectives are, how you agree you will see progress/results, then most of the time people will self-monitor if you treat them as adults and provide them the environment to produce. Of course some people will take advantage of not being present in an office and do a lot of extra activities that are not related to their role. You cannot micro manage from afar any better than you can micro manage if they were in an office. If you focus people on using the template to show progress, those people who are not doing what they should be doing get found out pretty quickly when they show little to no progress from meeting to meeting.

Sub Point. Making the Template redundant. Over the years I have had the pleasure of working with some very smart and capable individuals. When I first started working with new people I would lean more heavily on this template, but as we both got more effective at defining SMART goals, discussing challenges and progress against the goals, the formality of needing to complete this template subsided. Quite simply, we both came to our catch-up calls with a common view on what needed to be done and what we both need to do to remove obstacles that would stop us achieving our goals.
Finally, this template is provided in a PowerPoint format so you can download it, but you can put it in whatever preferred format or delivery vehicle you like. I have tried it stored in an online shared workspace as well as good ol' traditional email.
If you are interested in downloading the template, you can find it here.