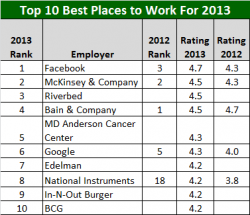 Many of the mighty have fallen, but much of the cream of last year's "Best Places to Work" remains.
Glassdoor's annual list of the 50 best places to work, as determined by the scores awarded by employees and former employees, is out, and fully half the list is new. But among the top 10 for 2013, four companies remain from the 2012 list: Facebook, McKinsey & Co., Bain & Co., and Google. All four were in the top 10 last year.
Facebook is a double winner; it ranks #1 for 2013, and also took the top spot for 2011. In the 2012 survey, it ranked third, right behind Bain and McKinsey, where were one and two respectively.
"We're honored to receive this award from Glassdoor," said Lori Goler, Facebook's vice president of people and recruiting. "We strive to make Facebook a place where everyone is able to have an impact doing what they love. Receiving this award is a testament to the culture of builders we've worked hard to create."
Of the 26 companies on the 2013 list who were not on the 2012 list, 21 have never before made a Glassdoor Best Company list. Ten companies have made the list in each of its five years: Apple, Bain & Company, CareerBuilder, Chevron, General Mills, Google, McKinsey & Company, MITRE, National Instruments, and QUALCOMM.
Unlike the more famous — and more analytical — Best Companies to Work For List, Glassdoor's list is based exclusively on reviews submitted by the people who know the company culture best. In the year leading up to the list's release, more than half a million reviews were completed. Because the reviews are anonymous, anyone can rate a company simply by declaring themselves an employee or former employee. Reviewers rate their satisfaction with the company overall and key workplace factors, such as career opportunities, compensation and benefits, work/life balance, senior management, as well as culture and values.
The Glassdoor list doesn't carry the gravitas that the "Best Companies" list does. Winning a place on that list has been shown to correlate to improvement in a company's stock price. However, the Glassdoor reviews are all available online, and they can be very direct, even brutal (a topic of an interesting session at the upcoming spring ERE conference).
Now, if you are looking for a happy place to work, the less-celebrated CareerBliss 50 Happiest Companies in America list came out over the weekend. Topping that list was pharmaceutical giant Pfizer. It was followed by NASA, which apparently manages to keep its spirits up despite having to hitch rides for its crew on Russian rockets. Curiously, the Department of Defense is third on the happy list.
A few employers made both lists, suggesting it is possible to be happy at a company that's also a great place to work.