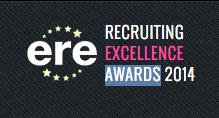 Finalists for this year's ERE Recruiting Excellence Awards run the gamut: lots of new names; some familiar names who've been honored in the past, and one quite colorful name.
They join a select group of companies who've been named in the past: the Dells, the Microsofts, the Whirlpools, UPSs, Enterprises, and Marriotts of the corporate world.
Thanks to the judges for their hard work looking over hundreds of words and dozens of Powerpoints, Excel spreadsheets, videos, and PDFs from Turkey, the Netherlands, Hungary, Germany, India, New Zealand, the U.S., Australia, and elsewhere.
The finalists are below. In the past, we named the winners at the spring ERE conference. Not this year. We'll announce them on ERE.net by the end of March, with some of the honorees presenting or being interviewed at the fall ERE conference, September 17-18 in Chicago, or featured in website articles on ERE.net, or webinars. So expect to hear more about the winners, and what they've done to win.
There's no better time than this to say that these finalists, though not the short list of winners, are winners. Yes, that sounds corny, but for these awards, it's the truth, as in most every category, a hair separated the winner from the finalists, and just beating out the other applicants to become a finalist is a big accomplishment. Here's the list, in alphabetical order within the categories.
Best College Recruiting Program
dunnhumby. Said one judge: "I like that they treat each of the university relationships differently and make an effort to actually build strong relationships with faculty"
MOL Group: a multinational out of central Europe with a high retention rate and innovative college recruiting contests
Best Corporate Careers Websites
(not just their own company's career site, but other pages on social media and other sites, including mobile sites/apps)
Air New Zealand: it's success online is big — without a big budget. LinkedIn and mobile traffic are rising sharply
Geneca: another success story with small budgets … one judge notes that "the entire Geneca team played a major part in designing the company's career site with an eye for authenticity and humor … key features include video segments of hilarious answers to 'frequently unasked questions'"
Best Employee Referral Program
EY: referred employees generally integrate quickly, perform better, stay longer
Protiviti: A turnaround story of a once-struggling employee referral program; one judge likes that it "uses town hall events, announcements, video contests, prizes, presenting checks at town hall meetings, swift follow-up, a referral blitz, and social media tools"
Best Employer Brand
Bosch: said one judge: "Really liked how you tied your values to concrete projects … connecting what can feel like generic buzzwords to something more tangible." Said another: "It has qualified results and quantifiable results with an increase in site conversion and an increase in applications. Its site is mobile optimized for tablets and smartphones to create a consistent experience"
EY: 175,000 employees … 175,000 brand ambassadors
Best Military Talent Program
CACI: one in four employees is a current or past service member
Deloitte: military recruiting starts with the CEO. Set a goal of doubling its veteran hiring numbers over the course of three years … put on a three-day leadership program for 50 current and recently separated armed forces members … "Armed Forces Business Resource Group" sponsors Deloitte Day, for veterans to visit and learn about careers at Deloitte; 2013 attendance was up 128 percent over 2012.
Best Onboarding Program
Big Ass Fans: the company perfectly summed up its efforts with this line in its application … "we believe that onboarding is more than just a new hire orientation. It is a valuable process that starts from the moment a potential employee begins their first interview."
Rackspace: onboarding receives a heavy investment, including involvement from top execs
Most Strategic Use of Technology
Accenture: surveys every candidate in its pipeline the week they leave the pipeline to measure the candidate experience
Bosch: out of Germany, it is, says one judge, "innovative, thinking outside the box"
T-Mobile: targeting a group others are not — former employees. "While the 'boomerang' concept is not new," says one judge, "I was particularly impressed by T-Mobile's execution of it"
Recruiting Department/Function of the Year (broken up into small and large companies)
–larger company
Rackspace: takes all of one day to make a hiring decision. It reduced time to fill, improved customer service, and is a "transformed organization … business-based, clear business value statistics," says one judge
Veterans Health Administration: saved millions of taxpayer dollars in temp staffing; one judge applauds its "high placement rates; targeted hiring/sourcing for mental health professionals — scarce hiring pool; improved internal efficiencies in customer satisfaction surveys; recognition by Congress; online HR/recruiter training"
–smaller company
Lending Club: helped grow the business sharply in tough San Francisco market. "Its usage of video job descriptions is a unique differentiator," says one judge
Virtusa: you'd think the company was a huge one by all it's doing … and all it's measuring; not just interview-to-hire and cost-per-hire ratios, but quality of hire and the impact on the business; "WOW," writes one judge