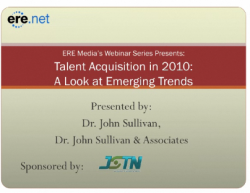 by Dr. John Sullivan and Master Burnett
On January 13, 2010, nearly 800 ere.net community members converged online to participate in a webinar (embedded at the bottom of this article) discussing the trends Dr. Sullivan predicted will impact the talent acquisition profession in 2010. Over the course of that webinar a number of questions were raised, each of which is addressed here.
Q1. Your trends article highlighted what is likely to happen during 2010, but you can you go further and tell us what are the top 10 overall actions steps that you would recommend for corporate recruiting leaders take?
To summarize, we would recommend the following actions in 2010:
Plan for a turnaround — assume that a turnaround will begin mid-year, but also look internally for indicators of when your organization is likely to rebound. Next, build an "explode-out-of-the-box" plan so that you are prepared to act quickly when the turnaround begins.
Develop an agile plan — assume that there will be simultaneous growth and shrinkage within your organization. Plan for job growth in some departments, but also assume that additional cost reductions in other departments will be needed. Prepare a plan that includes agility and flexibility in all programs.
Prepare action step outlines — it's not necessary to complete a detailed written plan for every possibility, but you should prepare an action outline highlighting the key steps that you would take for the most likely upcoming events. Develop these steps using if-then scenarios (i.e. if this happens, then we will take these actions or steps).
Prioritize jobs — because you will be operating with limited resources, focus your recruiting resources on the most important jobs. Start by prioritizing revenue-generating jobs, mission-critical jobs, and jobs in rapid growth business units.
Prioritize tools — an increase in the competition for top candidates will require you to shift away from active candidate tools and instead concentrate on the tools designed to attract and land employed top performers (passives). Focus on reinvigorating the employee referral program, recruiting at professional events, boomerangs, and mobile platform recruiting tools.
Social media tools — this category of tools require special attention because it is still evolving. The key is to manage the social media initiative and to take advantage of the time of your employees when they are on social network sites. Also, broaden your perspective beyond LinkedIn, Facebook, and Twitter and use other social and internet mechanisms like videos, wikis, talent communities, and online forums.
Integrate contingent labor — the most effective strategy for rapidly increasing or decreasing labor capability is the use of contingent labor. Identify the jobs where contingent labor is appropriate; then set a contingent labor percentage target that is equivalent to your projected maximum labor cost-cutting targets.
Dollarize recruiting impacts — work with the CFO's office to build your business case and to dollarize the impact on corporate revenues that can be attributed to delayed or poor hiring.
Speed up internal movement — moving internal talent to where they can do the most good often costs less and has a more immediate impact than external hiring. The internal movement process at most organizations must be updated and targeted, so that the needed talent is more rapidly guided into the right jobs. (Improving Internal Movement article.)
Retention and blocking — expect your turnover rates to increase by as much as 50%, as the job market opens up. Start by identifying what excites those most likely to leave and then develop a corporate-wide blocking strategy to make it more difficult for recruiters to poach away your top talent.
Q2. What role will contingency recruiting play as we approach a recovery?
Because market volatility is likely to be a characteristic that defines the business environment for months and years to come, organizations must develop a process that guarantees flexible labor costs. If you count all types of labor in use today, contingent labor already exceeds 30% of the workforce in many organizations. The key is to integrate contingent labor management so that labor solutions that look at labor holistically can be presented to managers. Contingent labor should also allow you to rapidly increase labor capabilities that may only be needed during short growth spurts.
Q3. Managing all labor via one function is a topic that has been discussed in my organization for several years, but no action has ever been taken. Can you tell me more about how other organizations have gone about establishing a holistic talent acquisition function that oversees recruiting, contingent vendor management, outsourced vendor management, and consultant engagement?
Understanding the total labor picture is a dictate that has been emerging for several years, particularly in high-tech industries. Organizations like Microsoft, Valero Energy, and Qualcomm come to mind as benchmark firms. Developing a holistic approach generally entails putting all related functions under one leader, developing a methodology to determine in which jobs contingent labor works best, and including contingent labor in broader talent management activities like workforce planning, redeployment, and knowledge development and capture. The key to convincing executives to reorganize is to make the business case demonstrating the increased productivity and labor savings that could result from an integrated process.
Q4. What are some of the best ways to market to passive candidates to increase predisposition to working at your company?
The underlying premise here is that top performers who already have a job are not likely to entertain just any potential job opportunity. "Employed top performers with choices" (passives) have a significantly higher threshold that must be reached before they will consider a company or a new job. The starting point is to identify the job-switch decision factors that would peak their interest. Unfortunately, the attractors used to lure active job seekers (pay, security, and benefits) rarely impress these individuals. Factors more likely to work include working with an industry star or a great manager, exciting job challenges, access to new technologies, exciting learning opportunities, and a chance to lead.
You can identify job switch criteria using three basic approaches:
ask prospects individually to list their decision factors.
ask your own top-performing employees in similar jobs to list their job switch factors.
ask newly hired top performers during onboarding to list the decision factors they used.
The job switch factors identified should then permeate your branding and employment marketing communications and be reinforced during every interaction with potential hires.
Q5. Several industry pundits have predicted that 2010 will be the year that sourcing as a profession dies and becomes a $10/hr job. Do you agree with those pundits, and if not, how do you see the role of the professional sourcer changing/evolving?
No I don't. There will always be a role for top quality niche sourcers. The role of sourcing will certainly change, so that corporate sourcers evolve into network managers. Instead of doing transactional sourcing, they will use the time of others and focus their time on educating and helping employees and others to more effectively use their social networks. Having thousands of individuals source for you (crowdsourcing) is a powerful and cost-effective tool.
Q6. What do you see as the best use of third party recruiters as this market rebounds?
The ROI of third party recruiters is greatest when organizations need to shift rapidly into entirely new areas or geographic regions where recruiter and employee networks are less likely to be as developed.
Q7. What was the 2009 turnover % and what is the expected 2010 employee turnover? My organization saw no significant change in turnover. Were we an exception?
The current economic downturn has not impacted all sectors in the same way. While some industries were negatively impacted, others grew tremendously. However, numerous studies show that a majority (75%) of employees in nearly all industries are dissatisfied and open to new opportunities. No change in your turnover rate could be an indication of strong employer desirability or lack of alternate opportunities.
Regardless, targeted retention efforts that include employer branding, pre-identification of who is at risk, and redesign of jobs to make them more challenging, rewarding and flexible will be needed throughout the recovery. (Retention Strategy article.)
Q8. Could you detail different blocking strategies?
There are four categories of blocking strategies that prevent external recruiters from poaching your best employees:
Blocking contact or access — limit access to contact information, train gatekeepers to identify inbound recruiting calls, and block known recruiter phone numbers and e-mail.
Information gathering approaches — identify who is recruiting and what methods they are using by using poaching incident logs, post-exit interviews, and debriefing during new hire orientation.
Training and awareness — train employees on what to expect and how to act when a recruiter calls, and continually drive awareness among employees about why your organization's jobs are superior.
Metrics and rewards — measure and distribute ranked turnover metrics in order to embarrass managers with high turnover. Institute manager rewards for low turnover among top performers in key jobs.
(Read more on blocking strategies.)
Q9. Haven't heard of Green Recruiting. What does that refer to?
Green recruiting is the general term for employer branding and marketing efforts that emphasize an organization's greenness or sustainability initiatives as a key selling tool. Highlighting greenness is important because it is often ranked in the top half of potential candidate's decision criteria. Among college grads it's even more important. GE, Google, and Timberland are all benchmark firms in this area. (Green Recruiting article.)
Q10. After two years of budget cuts, three-fifths of my non-labor budget is allocated to technology maintenance contracts and long-term tool/service subscriptions, leaving just 20% of my budget to deal with fluctuations in demand. How are other organizations becoming more agile when budget flexibility is almost non-existent?
In a world that requires flexibility, fixed costs are your enemy. The key is to negotiate flexible contracts based on usage, so the costs go down when your usage goes down. Some outsource vendors offer flexible SLAs, so that your firm can reduce costs rapidly when necessary and increase capabilities rapidly when sudden growth requires it.
Q11. How do you use credit card info for recruiting?
It is not really credit card data that recruiters can use, but rather consumer data that is derived from financial transactions and sold as sales leads by marketing services companies like Acxiom. Consumer profiles often include recruiting relevant fields such as employer, profession, location, annual income, etc. While not appropriate for all recruiting functions, sales lead data can be very useful in high-volume staffing environments. (Years ago such data was dismissed because it was often inaccurate, but today most data providers refresh each field at least once a year.)
Q12. Can you elaborate on the growth of ATS alternatives?
As employee referral programs, dedicated sourcing initiatives, and other forms of talent sourcing that introduce non-applicant talent to the organization grow in popularity, organizations need to build data stores on people who have not completed an online application and are not likely to. The online application is well known as a black hole, so insisting that all people who have engaged via social networking, offline networking, and high-touch referral go to your website and apply is like putting talent in a bus moving at 100 MPH on a freeway overpass that has not yet been completed: i.e., certain death.
For this type of talent, many progressive organizations are embracing CRM solutions and collaboration platforms that enable piecing together of non-applicant profiles over time by a defined group. Possible solutions include:
CRM Platforms — Recruiting-specific CRM platforms are emerging that let organizations capture small bits of information from scalable web forms that can be embedded almost anywhere, including social network profiles and search-engine-optimized landing pages that bring search engine traffic not likely to explore your online career portal. Additional fields can be captured via follow-up interactions that ultimately help you produce a complete profile. Lead segmenting and integrated activity scheduling can help organizations craft specific interaction plans designed to drive conversion of top talent.
Collaboration Tools — This category of tools includes robust collaboration servers and smaller web services like wikis and blogs. Organizations that use dedicated but dispersed sourcers including third-party partners can use collaborative documents like wiki entries to build searchable profiles of talent of interest to the organization. Every interaction and research find pertaining to an individual being tracked can be documented and shared in real time across the team.
Social Bookmarking — Special thanks to Michael Specht for sharing this idea during the webinar Q&A. By defining a tagging methodology, organizations can use social bookmarking software to build robust indexes of talent profiles existing across a multitude of internet sites. Employees engaging in benchmarking efforts could bookmark the profiles of those encountered from other organizations, tagging them with their function, management level, specific skill, etc. With an entire organization contributing to the social bookmark index, a crowdsourced directory of labor could be built relatively quickly and cheaply.
These were the top questions that emerged, but we are sure there are more. If you have a question or thought that hasn't been explored that is related to 2010 trends, share it in a comment, we'd love to hear what's on your mind.