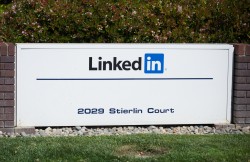 This week on ERE.net, there is a unified focus by a wide range of authors on the use of LinkedIn. To me, this focus is justified because LinkedIn has the potential of becoming the #1 corporate recruiting portal.
I'm the first to admit that LinkedIn still has many flaws, but even with them, the power of the portal in the recruiting field is unmistakable. If you are a corporate recruiter and you are looking for a database or source that includes a large percentage of passive prospects, LinkedIn is simply alone at the top. It is superior for many additional reasons, including that its profiles are accurate and consistent, it allows your employees to find quality potential referrals, and it enables a firm to conduct phenomenal talent management research. In this article, I will highlight what I have found to be the top strengths of LinkedIn.
The Top 20 Reasons to Use LinkedIn
The 20 reasons are broken into two distinct categories.
Strictly sourcing related reasons to use LinkedIn
It has a high passive to active member ratio — One of the primary differences between a good and a great recruiting source is the ratio of passive over active prospects that populate it. Although both types of prospects are desirable, those who are not actively looking for a job (the so-called passives) are much harder to find and communicate with. If your target is active job seekers, you must realize that in a tight labor market, they don't require advanced direct sourcing techniques to identify and sell them on applying. With little more than a job posting, they will find you on job boards or your career site. But if you're seeking the roughly 80% of prospects who are not actively looking for a job, you have fewer sourcing choices because they will not look at job announcements or visit career sites. But fortunately, these employed and not-looking individuals comprise the majority of LinkedIn members. There are other communities dominated by non-lookers (i.e. Facebook and Twitter) but LinkedIn is superior because its content focuses exclusively on professional contacts, sharing, and communication. Without the high percentage of "information clutter" from pictures, small talk, and family matters found on other sites, recruiters on LinkedIn have less information sorting to do. Obviously finding top employed prospects alone is only the first step in sourcing; you will also have to contact, build a relationship, and work hard to convince these non-lookers to even consider a job opportunity. After the connection is made, LinkedIn is not the best relationship-building or communications tool, so supplemental prospect research may be required including creating "Google alerts" on individuals and of course, direct communications and relationship building through e-mail, text, voice, Facebook, or Twitter.
The number of members continues to increase — Because of its professional focus and its many uses outside of recruiting, it has become a standard practice for most professionals to have a profile on LinkedIn. In fact, one of its strengths is that its members can be visible on LinkedIn without being suspected of looking for a job. As LinkedIn has added more professional features (i.e. answers, groups, events, etc.) employees have even more professional reasons for joining, expanding the percentage of members who are currently not active job seekers. Having a profile does, however, provide the added benefit of making a person "visible" to recruiters. So even if you're not actively looking, having a profile will provide you with an opportunity to be periodically "found", so that at the very least you will know if you're still marketable.
Its database quality can be verified — Although LinkedIn has more than 150 million users, volume doesn't always mean quality, so you always need to verify the quality of the membership of any prospect database. The best way to verify quality is to use your own employees as a benchmark measure. First, make a list of your very best performers in a high-volume key job at your firm. Then check the LinkedIn database to see what percentage of your best employees are found in a search of their database (you can do the same analysis for your worst employees). Then compare the percentage of your top performers found on LinkedIn with the ratio of your top performers found on other sites including large job boards, referral sites, Facebook, and Twitter. Don't be surprised when you find that the highest percentage of your top performers are found on LinkedIn.
It is referral-friendly — The most effective recruiting source both in volume and quality are employee referrals, so any sourcing option becomes more valuable if your employees will regularly use it find referrals. Because LinkedIn has many features that are not related to job search, your employees probably already frequent LinkedIn to benchmark, to gain mentors, to ask questions and to learn. LinkedIn makes it easy for your employees to identify and connect with others in the same profession that may eventually become an employee referral. Recruiters, who have a broader access to the entire LinkedIn database, can also "suggest" names within LinkedIn that an employee may want to build a relationship with in the hope of eventually making them a referral.
Its profiles are easily comparable and searchable — Because resumes come in dozens of different formats, they are a nightmare to search and compare side-by-side. LinkedIn profiles are consistent, meaning that they all contain the same format in every profile. This consistency makes it easier for recruiters and hiring managers to compare different prospects side by side on the same factors. LinkedIn makes it easy to search their database on a variety of topics including industry, connections, current and previous companies, job title, location, profession, and education. LinkedIn also provides targeted updates and follower statistics which allow you to limit and target the updates that you receive.
Its profiles are accurate — Research has shown that LinkedIn profiles can be more accurate than resumes. Because their profiles are seen by so many colleagues and individuals (many of whom would've attended the same schools and worked at the same organization), it's much harder for an individual to "get by" with a profile that contains inaccurate information. LinkedIn profiles are also more likely to be up-to-date than resumes, in part because LinkedIn will periodically encourage you to keep improving and updating your profile.
LinkedIn can help you identify when someone is about to begin looking — Smart recruiters can learn that certain actions by an individual may "signal" that they are about to enter "job search mode." The signals might include updating their profile, joining new groups, becoming a LinkedIn answer "top expert" or increasing other networking activities. Contacting a targeted individual who in the past has expressed no interest in a job may get a completely different result when they are considering entering job search mode. And if you get there early, you will likely encounter little recruiting competition.
LinkedIn makes it easy to apply — Allowing individuals to apply instantly for a job without having to update their resume is a powerful advantage. Some firms are beginning to use a LinkedIn profile (at least initially) as a substitute for a resume. One way to do that is to add an "Apply with LinkedIn" button to your job postings.
It has a job-posting capability — LinkedIn makes it easy to post and distribute current job openings to both types of prospects. When you are seeking active candidates, use LinkedIn job postings as a supplement to your normal job-posting channels.
It provides recommendations and facilitates introductions — If you need additional information on a prospect, LinkedIn provides a recommendations feature, which although subjective, it can provide additional insights into the individual and what others have experienced when working with them. LinkedIn also has an "introduction" feature that allows an employee to introduce a recruiter or another colleague to one of their contacts.
It facilitates event recruiting — Professional events can be a great place to recruit and the LinkedIn events tool has a limited capacity to help you learn what current professional events are being attended by your target audience. It can also be used to publicize your own events.
It includes executive search capability — Because many executives have LinkedIn profiles, the LinkedIn database may allow your internal recruiters to replace some external executive searches.
Non-sourcing related reasons for using LinkedIn
In addition to direct sourcing, there are many other reasons to use LinkedIn.
A powerful talent management research capability — Perhaps the most unique feature of LinkedIn is that it provides you with the ability to conduct talent management research. For example, LinkedIn is the only database that allows you to identify which firms are hiring and which individuals got hired there. Research can also help you measure the turnover at a particular firm, and more importantly which firm those people turning over immediately moved on to. The research capability also allows you to find out whether the number of individuals in a particular job title at a firm are increasing or decreasing and whether employees at a particular firm are being promoted internally. If you're interested in strategic recruiting, internal movement, and retention patterns, there is really no alternative to LinkedIn.
It offers many professional learning groups — Although many think of LinkedIn as a recruiting tool, it is also evolving into a professional learning and sharing site. There are more than a million professional groups that employees and recruiters can use to learn and share. The site allows you to create your own group or join an existing functionally targeted professional group (e.g. The Recruiter Network). A group may include thousands of members, so in addition to the obvious prospect identification goal, LinkedIn groups can provide frequent opportunities for employees to share ideas and to test new approaches. Because LinkedIn is more professional than social, you are less likely to get bogged down in a lot of outside of work conversations in their groups.
It provides an easy reference snapshot — In addition to recruiting, LinkedIn is a widely used reference source for quickly getting to know an individual. Many professionals use LinkedIn to get a quick snapshot of a stranger who contacted them or an individual whose name they come across while reading. With permission, it is also possible to conduct 360° reference check surveys among the connections of an individual you are considering hiring.
It supports employer brand building — Building a strong employer brand is essential if you want to eventually attract the very best. LinkedIn provides the capability for firms to create their own "company page" and to populate the page with materials that help to build their employment brand. Individual employees can also send updates to their connections with links to relevant articles, news items, and blogs, which taken together may also help to strengthen your employer brand. The company page can also be used to highlight your company's products and services.
It allows you to poll — LinkedIn provides the capability of polling a large number of individuals on professional issues. Not only will polls provide you with valuable and current information but they will also signal to others that you (the poll sponsor) are a key information source on that topic.
It is integrated with many other services — LinkedIn is integrated with sites like SlideShare, you can also view the presentation work of an individual prospect who you are interested in. LinkedIn allows you to link with blogs of your choice and it is at least partially integrated with many other vendors including Twitter, Taleo, Amazon, and Windows Live Messenger, just to name a few.
It allows InMail for communications — LinkedIn has its own internal e-mail tool for sending messages. However, unless your messages are scripted perfectly, you can't expect fast responses or a high response rate on your InMails. In addition, if you make the mistake of frequently spamming messages or job postings, your response rate will quickly degrade.
It provides an advertising capability — Although its advertising approach is not as strong as other portals, LinkedIn provides the capability of strategically placing ads covering your products or jobs. 
Additional reasons for using LinkedIn 
Some other miscellaneous reasons associated with using LinkedIn include:
LinkedIn is relatively easy to learn and master by recruiters and even hiring managers.
Is relatively inexpensive to use, even with its advanced features.
If some of your employees are well-connected on LinkedIn, your recruiters may be able to piggyback on their contacts in order to get immediate sourcing results.
LinkedIn is continually growing and becoming more global.
Their answers tool can allow your employees to showcase their skills and solutions by answering the questions posed exclusively by individuals their network.
It can also double as a sales lead building tool.
Incidentally, if you're looking for a job, contacting recruiters directly through LinkedIn isn't the best approach.
Final Thoughts
For our cynical readers, let me repeat my acknowledgment that LinkedIn is not yet a perfect recruiting database. But almost everyone would have to acknowledge that LinkedIn is certainly making continuous progress on improving its recruiting and other services. If LinkedIn keeps growing and improving at its current rate, it won't be long before it will be universally recognized as the ideal sourcing database for "not-looking" professionals.
I have been a LinkedIn user since 2004 (# 313,697) and have no financial relationship of any kind with the firm.