Dear Barb:
I was a teacher before I entered this profession and I thought I was going to find jobs for most of the people who came to me for assistance. What I'm beginning to realize is I'm not able to help the people who need help the most. We don't place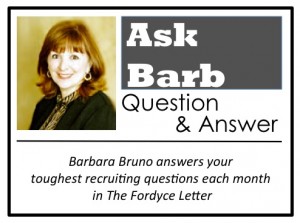 people who have been unemployed for a long time, and so I try to at least give them some free advice or help them with their resume. My owner wants me to focus on the people I can place, but the other candidates are the ones who keep calling me. How do I balance my desire to help everyone with my greater desire to be successful in this profession? I have not been able to hit my goals in my first four months and wonder what changes I have to make. Your advice is greatly appreciated.
Mary D., Hinsdale, IL
Focus On Those You Can Place
Dear Mary:
In this profession, we place approximately 5% of the people who come to us for help. Unfortunately, our clients will only hire people with skills, stability, and experience. You must focus on the people you will place and provide options for everyone else.
One of the greatest time wasters in our profession is time spent providing free advice and consulting to candidates we will never place. You must be honest with these candidates on why you will not be able to place them and provide them with resources. All the time you're spending providing free consulting and helping job seekers with their resumes is taking money out of your pocket.
You can provide these candidates with lists of organizations in your area that can help them; you can provide them with sites on the Internet or lead them to local job clubs. Another option is our Career Portal which I developed for job seekers we don't place. If your owner wants more information on this resource, go to Happy Candidates or call our office 219.663.9609.
I created this resource because I felt the same way you do. I wanted to help everyone our business attracted. With the Career Portal we are able to place 5%. but provide a great resource that helps the other 95%. We leave each day feeling great that we were able to help everyone.
Barbara J. Bruno, CPC, CTS
If you enjoy Barb's training, join her Premiere Coaching Club.