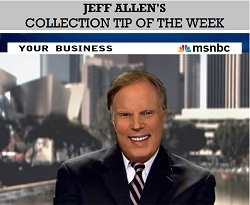 Editor's note: Jeff Allen has heard every employer excuse you can imagine for not paying up — and dozens more that defy imagination. A few years ago he began documenting them in a weekly collections column. Because of the importance of collections, Fordyce will periodically reprise the most common situations he addressed.
What Client Says: 
 The delay was too long from your referral to the hire.
 How Client Pays:
The average delay from referral of a candidate to hire is 98 days. You probably think it's 30 days. I did when I was a recruiter. But as an HR manager, I learned the truth.
You think it's so short because you're unaware of those back-door hires.
The typical recruiter loses track of a rejected candidate within 30 days after the referral. The recruiter gets caught in a "sendout-turndown cycle," not realizing that a viable candidate's contact information is sitting there on some hirer's desk like an ad. It may even be circulating around from one potential hirer to another. But to the recruiter, 30 days means "cold and old." He's busy on some hot new search assignment somewhere else.
Recruiters move fast. Bureaucratic, committee-controlled, politically-dominated companies move slowly, but unsurely. The delay provides an irresistible temptation to call a candidate directly or accept his follow-up call. Then it's a very short step to forgetting your fast five-figure fee.
So keep track of sendouts with candidates and clients for at least 90 days. Then call the clients and ask for the candidates you referred.
Vigilance is valuable — two-thirds more than you realize!
Note: Last year Jeff Allen wrote about FeeCatcher, an automated service that tracks your sendouts and alerts you when they get hired so you can collect. Now renamed Hirabl, the service has enabled recruiters to collect fees on sendouts they lost track of. Read Jeff's post here.