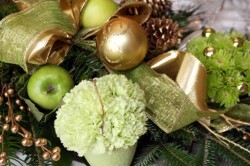 A holiday message …
I've been thinking all year about something our accountant said when he visited us in February of this year to have us sign the final paperwork for our taxes.
During our meeting Bob had been moaning about how our 2009 business was off so much over 2008 and things just seemed to be dragging along interminably. I usually sit through our meetings quietly, ask a couple questions about tax issues I've read about, sign the paperwork, and leave the two of them to talk about guns or whatever it is two guys talk about.
This time was different. I joined into Bob's alarmed cacophony, looking to someone anxiously for answers to something I've never experienced being in business for myself these last 35 years.
Steve listened keenly and patiently as he always does and relayed some news from some of his other clients who were experiencing the same frightening downturn. It helped somewhat to hear that we weren't the only ones in a sinking boat.
As he prepared to leave and we walked him to the door still chattering nervously about the diminished state of our estate, Steve turned, looked at us (I think he was looking at me/Bob thinks he was looking at him) and quietly said, "You'll figure it out."
I felt better.
I felt like he had confidence in me and my ability to figure this thing out.
That alone is worth far more than the few thousand dollars per year that we pay him to keep us out of tax trouble.
You know what?
I did figure it out. I figured out that though these weren't the best of times, these were still the times of our lives, and the lessons being handed out, although not easy, were valuable.
I realized that sometimes it's the simplest of things that bring home the bacon.
Even though our sourcing business was off 87% in 2009 over 2008 and 2008 was 46% off 2007, it was still possible to stay in business. We filled some of the gap by doing things we didn't do so much of when we were busy phone sourcing: things like building out company telephone directories for salespeople who find value in call lists where people have good-paying jobs and the ability to purchase goods and services.
It's simple stuff that was time consuming and it sometimes felt inane, but it kept the lights on.
So did cleaning up the decimated databases of others who saw value in paying us to help them prepare for better times. In ordinary times databases age about 20% a year. During the extraordinary last three years we've seen databases age out/away at over 50% per year!
What else did we have to do? We spent the time we had doing something that brought in dollars; maybe not the greatest dollars, but dollars nonetheless.
Those dollars helped us through.
Of course we still had our dyed-in-the-wool customers who kept on doing what they know how to do best, and I can't thank them enough (you know who you are!) for keeping the faith and continuing to use us even when I think some of them could have done what we do themselves.
As hard as it was through these hard times we invested in our business. We took advantage of lower prices and tax incentives that encouraged us to buy new phone systems, computers, office equipment, etc.
It wasn't easy to do, but we believe in the future, and if you have faith, that faith will deliver courage.
The good news is that in mid-May, 2010 we surpassed all of 2009 revenue. 2010 has continued to deliver and it looks like 2010 will be up maybe even 150% over 2009. It's not nearly what we did in 2006 and 2007 but things are headed in the right direction, and I'm happy to report it.
That's encouraging and I hope it is for you, too.
I suspect though, that one reason we're up smartly is that so few are left in the sourcing/recruiting business.
Many gave up, turned the lights off and went home. We didn't.
A big part of that (for me) was because someone else had faith in us to figure the damn thing out.
I hope to make this piece a sister/companion piece to the "But That's Not My Job" series. Much of what we did during this recent downturn wasn't part of our ordinary jobs.
But we did it.
We figured it out.
So can you.
I hope you have a happy holidays and a prosperous New Year!