Note: Barb Bruno is one of the most in-demand trainers and conference speakers in staffing and search. We asked her what questions came up most frequently this year during her presentations. Over the next few weeks Barb will share these questions and her responses.
B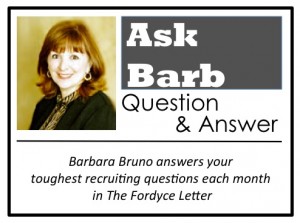 efore I address the question posed in the headline, I'd like to ask you one question. The last time you sent in a rock star what happened to the interview process?
More than likely, interviews were combined and the process went much faster than you anticipated. This is almost always the scenario when you send in candidates who are the caliber your clients want to hire.
When the interview process slows down and clients are taking longer than normal to hire, is it their fault or yours? There are instances that can delay hires including:
Changed priorities.
An internal candidate surfaces.
The hiring budget is slashed.
Your candidate is a backup, not the front runner.
There is no urgency to hire because no problems exist as a result of the vacancy.
A more qualified candidate has surfaced.
However, the number one reason clients take so long to hire is they are not in love with your candidates. They are not sure the candidates you submitted will make them look good or provide a strong ROI after they are hired. This causes your client to continue to interview and delay the process.