Dear Barbara: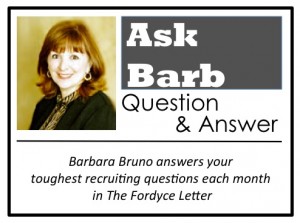 My best client is monopolizing the majority of my time even though he hired 30 fewer contractors from me in the past year than the prior year. I've worked hard to be consultative and solidify the working relationship with this client. He is going through a divorce and would rather discuss personal issues than focus on business.
He has been my largest client in the past, which is why I don't know how to handle this. I have another client who is now my top client and I don't have enough time to dedicate to him. Not sure how to balance my time.
Kathy F., Newark, NJ
 Refocus the Conversation
Dear Kathy:
It is important that you study the sales from each of your clients in comparison to the time, you dedicate to each client. If your established client is consuming 50% of your time and only generating 20% of your sales, changes must be made.
You obviously have great rapport with your client. I would set up an appointment with your client outside of business hours. Express your concern over his personal situation but draw the conversation back to business and the negative impact the reduced hiring could have on his career. I would offer to discuss his personal issues after hours so you can help him focus on business during working hours. Eliminate all time wasters; plan 100% of your outgoing calls before you leave work; segment your day and block off time daily (when you are not accessible) to focus on filling the orders of your new top client.
Each year, conduct a review of all clients you currently represent. Your goal is to focus most of your time and efforts on the clients who generate the highest level of sales.
Barbara J. Bruno, CPC, CTS