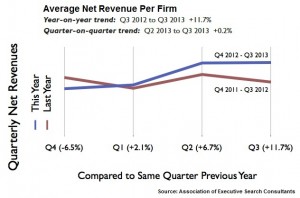 Richer, if fewer search assignments have improved the overall revenue of executive search firms in 2013, according to the latest survey by the Association of Executive Search Consultants.
The quarterly survey of AESC's  member firms shows the volume of executive-level searches trending down since the beginning of 2013. Search volume in the 3rd quarter of this year was down 11.2% from the 3rd quarter in 2012. For the same period, the average fee per search is up 6.4%, which is yielding an 11.7% increase in the total revenue of the AESC's member firms.
In comments accompanying the survey results, AESC President Peter Felix said the results reflect greater competition for the mid- to senior-level searches "by other recruiting methods, but is relatively free of competition where searches are at the top level, more complex, confidential, international in scope and highly sensitive to public scrutiny."
Since the recession, many of the biggest corporate firms have reorganized their recruiting function to bring more searches in-house and reduce their dependence on both contingent and retained firms. LinkedIn, with its 250 million profiles of mostly professional-level workers has simplified the sourcing of high quality candidates for rank and file corporate recruiters. Now, they have access to many of the same candidates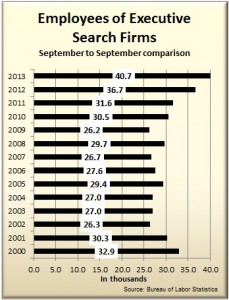 who previously were exclusive to third part niche recruiters.
Meanwhile, sites like Scout and BountyJobs have encouraged firms to connect with only select firms, rather than open searches to any recruiter for hard-to-find candidates.
However, even the most aggressive corporate talent acquisition groups won't take on the executive level searches. While some may be reserved to committees of a board of directors, most such searches are conducted by executive search firms.
Two factors are contributing to the improving revenue of firms placing candidates at the highest levels:
Executive compensation is rising. The New York Times analysis of pay for the CEOs of public companies with at least $1 billion in revenue found an average increase of 16% in 2012 over 2011. Other reports that cover smaller, and non-public companies, put the median increase at half that, or just a point or two less than that for other workers.
Turnover among CEOs is already 5.3% ahead of last year, says the outplacement firm Challenger, Grey & Christmas. If the trend of planned departures continues, 2013 could see more CEO turnover than any year since 2008. Looking at just the public companies, a Spencer Stuart survey says 43 CEOs of Standard & Poor's 500 companies have departed so far this year. Bloomberg.com says the year could end with 50 or more departures. In many cases, when a new CEO is brought in from outside the company, it leads to a trickle down departure of executives, which creates more searches.
Another sign of improving fortunes for search firms is the growth in hiring the firms themselves have been doing. In 200, the last anything-goes year for Internet firms, executive search firms in the U.S. had 32,900 employees. Nine years later, after the recession took its tool, those numbers declined by more than 20%. In October, the most recent month for which numbers are available from the Bureau of Labor Statistics, search firms had a record 40,700 employees.
Even as the firms have added staff, average revenue per consultant has also grown, increasing 4.9% in the 3rd quarter from the same quarter in 2012.