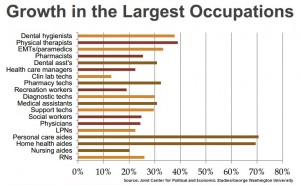 Whatever you may think of the new Affordable Care Act it's already creating new healthcare jobs, and increasing demand for nurse practitioners and physician assistants.
"Nurse practitioners and physician assistants are attractive options because they can do 75 to 85% of the work a physician does at 55 to 65% of the cost," says Susan Mesa, president of the Atlanta locum tenens staffing firm Advanced Practice.com.  
These types of professionals may be the most obvious beneficiaries of the health care law parts of which began to go into effect January 1. They are not, however, the only workers that will be needed as the number of the nation's medically insured grows.
Says Joanne Spetz, who is professor in residence at the University of California, San Francisco, "In general, when people have health insurance, they demand more health care." That means, she adds, "a lot of opportunities at the entry-level and midlevel."
Robert Wise, chairman of the New Jersey Health Care Workforce Council, told NJ.com, "Many more professionals and caregiver positions are necessary to meet what will be a significant new demand. We're talking about thousands, maybe tens of thousands of jobs over the next 10 to 15 years."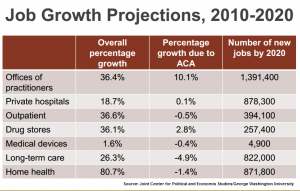 A study by the Joint Center for Political and Economic Studies says 4.6 million new healthcare jobs will be created in the next 10 years. Most of them will be prompted by the aging of the U.S. population. However, the report says the Affordable Care Act will account for a sizable share of the growth in employment in medical offices and pharmacies.
In specific occupations, the ACA will boost the number of new RNs by 34% over the next decade, account for 238,000 of the 712,000 projected increase.
But there will be a veritable boom in demand for medical assistants and secretaries, who don't need advanced degrees. Between these two occupations, the number of workers will grow by 373,000, with well over half the jobs created due to the implementation of the ACA.
Last month, CareerCast said 12 healthcare jobs made its list of the hottest jobs in 2013. Medical records technician, dental hygienist, and respiratory therapist shared company on the list with chiropractor and physician assistant.
Though the Duke University/CFO Magazine Global Business Outlook Survey predicts fulltime hiring may take a hit from the implementation of the health care law, the evidence is that  healthcare industry will be its beneficiary.