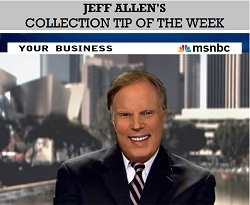 Editor's note: Jeff Allen has heard every employer excuse you can imagine for not paying up — and dozens more that defy imagination. A few years ago he began documenting them in a weekly collections column. Because of the importance of collections, Fordyce will periodically reprise the most common situations he addressed.
What Client Says:
You didn't sign our placement service agreement.
How Client Pays:
Placement service agreements (PSA's) are so draconian, demented and demeaning.
Sometimes you aren't told about PSA's until after the placement. Other times they're sent to you, but the client doesn't follow up by requiring the signature before working with you. It's the reverse of sending a fee schedule that requires the client's signature, and then placing without its return.
Either way, the client will owe your full fee if you didn't sign. It could cost some HR functionary his or her job, unless you agree to some lower fee, refund guarantee, or extended guarantee. They threaten, beg, plead and eventually call in the Corporate Counsel Corps. Let the employer lawyers march — they're just on maneuvers. All talk.
You've got the law and your fee schedule on your side!