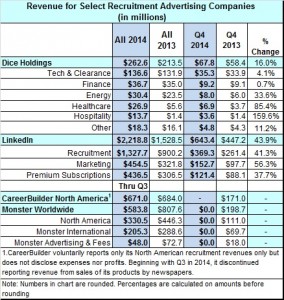 LinkedIn reported another winning quarter this afternoon, bringing in $643 million in the last three months of 2014, with recruiting sales accounting for 57.4% of the total.
Both the revenue, and the company's adjusted earnings per share of 61 cents,  handily beat Wall Street's expectations. Analysts were predicting LinkedIn would earn 53 cents on sales of $617 million.
Last week,  Dice Holdings, parent company of several niche job boards including the tech site Dice.com, reported besting 2013's numbers, earning 12 cents per share for the 4th quarter on revenue of revenue of $67.8 million. It was a 16% improvement on revenue and a swing to profitability compared to last year's 11 cent a share loss. Still, the company missed analyst expectations on both counts.
LinkedIn's 4th quarter, capped a go-go year in which 2014 revenue grew to $2.22 billion, a 45% increase  2013's $1.53 billion. Its Talent Solutions sales totaled $1.33 billion for the year. By contrast,  when Monster reports its numbers next year, expectations are it's total revenue will be about $776 million.
During a conference call with analysts, CEO Jeff Weiner credited several factors for the company's strong growth. The jobs initiative, which aggregates job listings from career sites much the way Indeed and SimplyHired do, now has some 3 million jobs on LinkedIn, with more to come, he said.
Heavy investment in mobile capabilities has increased to nearly 50 percent the visits coming from portable devices, while the amount of content available to all users has grown significantly. SlideShare, a LinkedIn acquisition, is a powerful draw, Weiner said, with growing numbers of "Influencers," celebrity writers and industry and occupation specialists, contributing content there, and elsewhere on LinkedIn.
In addition, the firm last year launched Chinese language versions, and has doubled its members in China to 8 million. That number could grow significantly in 2015, now that LinkedIn has been granted approval to operate a local Chinese site.
"Entering 2015," CFO Steve Sardello said in the financial announcement, "We plan to continue investing in our long-term roadmap to further pursue our vision to build the world's first economic graph."
The company forecast revenue for the current quarter between $618 million and $622 million. And between $2.93 billion and $2.95 billion for the full year.
Dice, meanwhile, forecast revenue for the quarter to be in the range $63.5 – $65.0 million and $268-$276 million for the year.
In 2014, all job board sectors saw increases, though CFO John Roberts noted that falling oil prices are likely to impact its energy related job boards this year. Tech, lead by Dice.com, provided the lion's share of the company's income, generating $35.3 million in revenue, helped by income from Clearance.Jobs.com.
Looking ahead at 2015, CEO Mike Durney said Dice.com would be expanding in EMEA launching in that region in the next few months. He also pointed to the broadening of its Open Web service from tech to now include finance.
Open Web, which creates extensive candidate profiles by pulling in data from public postings, resumes, and relevant databases, is available either as an add-on to contract customers or as a stand along service for $5,000.
Discussing the implementation of Open Web to the company's financial career site, eFinancialCareers, Durney said, "We integrated social profiles into the resume database search for existing clients, pulling Open Web profile information and skills burst into matching candidate profiles.
"Skills burst is a new feature that was introduced in this deployment of Open Web that uses data we've accumulated from Open Web together with our own proprietary data about relations of skills. This enables clients to see the skills clusters of candidates in a highly interactive and visual format."