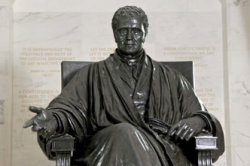 Political, legal, and benefits junkies have probably read and heard just about everything, pro or con, about the health-care case recently argued in front of the Supreme Court. What's not been said as much is what this means to employers once the court rules the way it does.
Ogletree Deakins' Thomas M. Christina, who helps clients through the process of establishing and operating benefit plans, and who has counseled employers on the health care law, talks with me about what the upcoming decision may mean for recruiting and human resources — depending, of course, on just what that decision is.
Christina is a former Deputy Assistant Attorney General and Associate Deputy Attorney General. The video's about eight minutes, below.