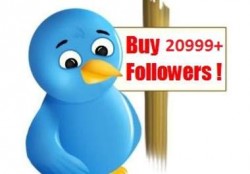 If you have Twitter envy, we have a solution. Just buy your followers.
Sure, you could stay up all night tweeting and retweeting, praying you're witty enough, observant enough, or helpful enough that the Twittersphere will reward you with thousands of followers, some of whom might even be candidate-worthy.
Or, you could do what PR firms, celebrity marketers, even Mitt Romney has done and spring for 10 or 20 thousand — or more — followers. You can buy more, lots more, but really, everything in moderation.
We, the ever-so-helpful ERE editors, did some price shopping, and found Twitterfollow on Fivver offering 21K followers for the low, low price of $5. We think that's a steal, considering Barracuda Labs found the average price to be $18 per 1,000.
Now that you have all these followers, you'll need to do something with them. We have a solution for that, too. There are hundreds of services that will sell you tweets and retweets of your messages.
No time to think up stuff? No worries, practically every marketing and PR firm will "manage" your social media presence, including regular tweeting. The bigshot agencies will charge you an arm and a leg. But if all you want is an occasional blast, we, the still helpful ERE editors, found you a deal on eBay: 99 cents per tweet to 70K followers.
Oh you there, with the halo, yes, we thought someone might have some, uh, ethical concerns. Even though Barracuda Labs found at least 11,000 users with bought and paid for followers, Mom would have said something like, "If everyone jumped off … "
Anyway, in Saudi Arabia at least, buying phony Twitter followers might be a sin, says a senior cleric in the kingdom there. If you're in a vigilante mood, and want justice this side of the grave, check out your Twitter competitors with the Fake Follower Check from StatusPeople.
Leave Me Alone
Greta Garbo perfectly captured the telecommuter attitude when she declared, "I want to be alone."
Avoiding colleagues, office politics, and distractions are three of the leading reasons why people want to telecommute. And you thought it was to avoid traffic. Turns out that's on the list, but a runner-up to the 82 percent who told FlexJobs they want to be left alone.
Then there's the comfort factor, which 72 percent said was yet another reason to work from home. Just what that means, well, we'll leave it up to you to decide. Though for something like 10 percent of the workforce, it means wearing nothing at all.