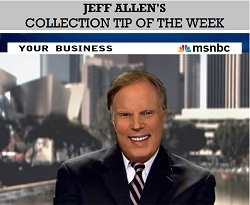 Editor's note: Jeff Allen has heard every employer excuse you can imagine for not paying up — and dozens more that defy imagination. A few years ago he began documenting them in a weekly collections column. Because of the importance of collections, Fordyce will periodically reprise the most common situations he addressed.
What Client Says:
You misrepresented the candidate's qualifications.
How Client Pays:
By continuing to employ the candidate, the client is waiving (relinquishing) its right to allege a misrepresentation (or even just a breach of the placement contract).
Invariably, the story is that:
You negligently didn't discover some falsified degree or job on the candidate's resume, or
You intentionally concealed something you knew about this falsification or discovered independently.
But by that continued employment of the candidate, the employer is then estopped (stopped or prevented) from asserting the misrepresentation.
Of course, that assumes:
The candidate wasn't fired within a month or so after the misrepresentation. If he wasn't, the employer impliedly liked him or her anyway. The employer can't have it both ways.
There was a material misrepresentation (something job-related that directly induced the employer to hire).
There's so much misrepresentation in the hiring process anyway, so rarely do inflated credentials, deflated skeletons ore mere inaccuracies constitute grounds for termination. Besides, the client has to deal with the next candidate's misrepresentations! (Statistically 80% of the time.)
So truly, this is a full fee scenario!