Note: Barb Bruno is one of the most in-demand trainers and conference speakers in staffing and search. We asked her what questions came up most frequently this year during her presentations. Over the last several weeks Barb shared these questions and her responses. This is the last in the series.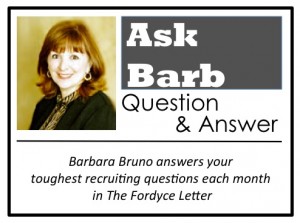 By the time you write an order, contract or assignment, it's too late to recruit, unless you are working retained search or have been paid an engagement fee up front. You must conduct revenue modeling to identify your best business. Hopefully, your best business represents five to seven positions that you know you can fill if written.
It is then your job to build a pipeline of top talent in those five to seven areas so when you write an order, contract or assignment, you can almost instantly present talent faster than your competition.
Once you identify your best business, 85% of your marketing and recruiting efforts should be directed at attracting clients and candidates that are in those areas. This will enable you to fill a much greater percentage of orders written and you will be able to send your candidates on more than one interview.
If you are not sure how to conduct revenue modeling, email support@staffingandrecruiting.com, place Revenue Modeling in the subject line and I will send you detailed information on how to conduct a revenue modeling exercise.