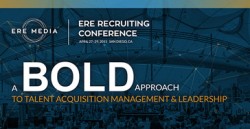 As you know, the ERE Recruiting Conference is coming up soon, April 27-29, 2015. Much of the discussions that we will be having in San Diego are driven by the readers of this publication.
My job is to bring to you the best, most innovative speakers in recruiting leadership. With that being said, I am proud to report that the list of attendees looks like a who's who of leading organizations. 80 percent hold manager level or above positions and 86 percent are from companies with 1,000 or more employees. It's a great list and if you aren't on it yet, you should be. Take a look at a few of the titles and the companies who are attending.
Let me know (212-671-1181 x806) if you have any questions. And you can sign up here.
Director of Recruitment, Affirma Rehabilitation

Director, Talent Acquisition, Aurora Health Care
Director of HR Service Delivery, Christiana Care
Director of Employment Strategy, DaVita
Vice President of Talent, DaVita
Director, Talent, Evolent Health
Global Director, Genomic Health, Inc.
Director of Recruiting, Great Lakes Caring
VP, Talent Acquisition, Havas Health
Onboarding Specialist, Healogics
Director of Recruitment, Kaiser Permanente
Lead Recruiter, KidsCare Therapy
President, KidsCare Therapy
Global Head Talent Attraction, Novartis
Sr. Manager, Talent Acquisition, Organovo
Sr. Manager, Talent Acquisition, Pacific Dental Services
Talent Acquisition Specialist, Pacific Dental Services
Sr. Recruiter, Renown Health
Director, Recruitment, Sharp HealthCare
Sr. Manager, Talent Acquisition, Stryker
Senior Director, Global Talent Acquisition, Stryker
Executive Recruiting Manager, Stryker
Dentist Talent Acquisition, Willamette Dental Group
Recruiter, Willamette Dental Group