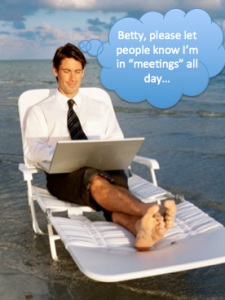 Caller: "Hi, can I please speak to John?"
Secretary: "Sir, John is not available right now. He is in a meeting. Can I take a message?"
Caller: "Do you know when he will be in?"
Secretary: "He is in meetings all day." … click.
Bummer. I missed John again. That is one hard guy to get a hold of.
Wait! John just tweeted: "At work, is it Friday yet? Leaving early for H-Hour with the crew…"
What the &*()&)(? What kind of meeting? What's going on here?
Yes, John has left his window open, again.
It is true, social media has changed the way the world now communicates.
And it will probably get better … or worse, depending on your viewpoint.
But one thing is for sure, and it's something that many people forget about: social media acts as a window into each of our lives. Sometimes we forget that the window is left open — wide open — and the world is watching. And what do we see when the window is open? Everything! We have seen employees fired for bad mouthing their bosses. We have seen prominent law students lose high profile job offers due to personal misconduct. We have seen friendships destroyed because of trash-talking and sadly we have seen cyberbullying and harassment.
The point is, I am not wronging John for saying he is in meetings all day and avoiding his phone; rather, I am advising John to be careful of what he says and when he says it.
Furthermore, the Internet is now becoming a large part of one's resume as well — perhaps an electronic version, if you will. Yes, you have your paper copy which details your professional background and accomplishments and then you have your Internet resume which details perhaps your personal life, what others think about you, what you think about others, and so on. And regardless of what is said, who said it, and whether there is truth behind it or not — the fact remains that it is out there and people can see it.
With all these social media tools, you never know who is watching and you surely don't want to look like a fool. Remember: the Internet never forgets.