This is the third Fordyce Forum that I've had the pleasure of attending, but the very first as the new Editor for The Fordyce Letter! The perspective is somewhat different as an employee but the experience is the same – learning, networking, developing new connections and appreciating existing ones. One of the things I've enjoyed about all of the Fordyce Forums I've attended is the fact that they are more intimate, and therefore the atmosphere is perfect for really getting to know your peers. Our conference chairman, Jeff Skrentny, kicked things off by asking everyone to think about why they came – obviously to learn, but also to be convinced of the value of new technologies, to retrain on basic skills, and of course to understand concepts in order to bring home new material to train the rest of our offices.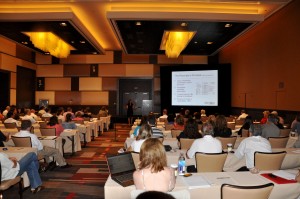 There were two overarching themes at this year's Forum: the resilience of those individuals and teams who made it through 2009, and the absolute importance of cultivating relationships. The three keynote speakers – Jon Bartos, Jenifer Lambert, and Jordan Greenberg, each touched on at least one of these topics. Bartos' presentation began with a recap of the difficulties we all experienced in 2009 and addressed the question, "Where do we go from here?" During her session, Lambert stressed the importance of building trust relationships and provided the formula: Trust = Truth + Time. She also shared the need for search partners to respect the process and develop partnerships with HR counterparts.  And during Greenberg's session on Friday, he encouraged the audience to speak more positively and expect good things to come. He said to put ourselves in our candidates' shoes to remember that stress happens on both sides of the table. Remembering things like this helps us to keep our jobs in perspective and remember the importance of that relationship.
General sessions brought topics of business development, closing skills, and personal marketing and promotion. Presenter Tim Tolan shared some of his business development practices with us, including how to know when to walk away from a bad client. He also stressed the importance of reviewing, and if necessary rewriting, your business plan on an annual basis. Carolyn Thompson showed us press kits and some really great ways to market ourselves and gain exposure with our target audiences. Her credibility as a Pinnacle Society member and the fact that she still works a desk while conducting these marketing campaigns was proof that we can (and need to) find time to promote our expertise. The Pinnacle Panel is always a crowd-pleaser – moderated by Jenifer Lambert, participants were given nuggets of wisdom from Dave Staats, Tom Keoughan, Rick Rush, and Fernando Espinosa. Questions coming from the audience ranged from office structure to niche markets to most difficult adversities overcome.
Our break-out session leaders provided workshops on using technology tools, how to take your billings to the next level, developing strategic partnerships, developing a niche, and closing techniques. Many thanks go to these individuals – Neil Lebovits, Rob Mosley, Jeff Skrentny, Paul DeBettignies, Jeff Kaye and Karen Pickens, and Shannon Myers. I did not have the opportunity to attend the pre-conference workshop on sourcing conducted by Shally Steckerl but those who attended it said that it was well worth arriving early for.
Of course, some of the best conversations at these conferences happen in between sessions and at the networking happy hours. I was on a mission to meet as many attendees as possible and ended up in so many interesting conversations. It was fantastic to observe new friendships being forged and to know that at the end of the day, we're all rooting for each other's success in our businesses. There was a sense of camaraderie with this year's attendees – a mutual respect in reflecting back on 2009 and how, even though things got really tough at times, everyone there made it through and is starting to see the light at the end of the tunnel.
Special thanks go to our event sponsors this year – PC Recruiter, TFI Resources,  Big Biller, Top Echelon Network and Top Echelon Contracting, NPA Worldwide, cBizOne, CATS, ZoomInfo, FileFinder, and The Right Thing!. We could not put these events on without you!
We certainly hope you'll join us for Fordyce Forum 2011 next year. Please stay tuned for more information in the coming months and keep reading The Fordyce Letter. I am looking forward to getting to know all of you!