Among the many recent launches and updates we've caught word of recently, including, at the end, the "fire" mentioned in the headline:
Talify is launching soon, to match undergrads with jobs and volunteer gigs. Students build a profile using assessments that measures things like leadership, empathy, entrepreneurship, and more, and employers and hiring managers search for qualities they want. Talify is part of Kiosite. Based in St. Louis, it's funded by a small group of entrepreneurs, and from Caliper.
1-Page  (which by the way I was surprised to see in my Barron's when it landed in my driveway recently) has a new feature out. Companies describe the kind of people it wants to hire, and a "talent pool" is put together showing profiles of candidates who fit the bill. A large U.S. bank, a large Hong Kong bank, and Starbucks are among 1-Page customers.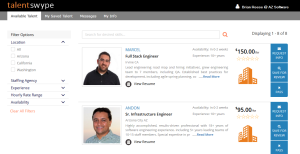 Tom Greifendorff left Mitchell International in December and is at TalentSwype. He and a business partner raised angel funds and built this site for contingent hiring (see image) which you could say is roughly in the genre of Hired. TalentSwype has signed up a large Phoenix employer, some large staffing agencies, and has hooked up with a California incubator.
I've been talking with a Jacksonville, Florida, engineer named Charles Wigelsworth, who's working on what I consider a very intriguing startup. I'll sum it up super briefly here and we can talk more about in the comments section. Basically, he describes it a bit like LinkedIn, but anonymous. Job seekers will build profiles, and employers (paying maybe $10-$60 per month for unlimited contacts) will contact candidates based on their profiles, which again will be different than other job sites due to the anonymity. Job seekers can evaluate the contact, ask questions, or reject it anonymously, providing feedback if they want. Or, they can apply. So what he'd create is an active job search for what would be considered passive candidates because the technology can keep searching for them, but candidates don't have to keep saying they're doing so. He envisions this costing $900,000 to build, and is looking for investors (receiving some interest out of Europe so far). Wigelsworth, who says it is "time to set fire to the recruiting industry," believes it could be built in 6-10 months and undercut many in the market.
Love our content? Now you can experience it in person! We'd like to invite you to the ERE Recruiting Conference this April 6-8. Become a data-driven decision maker over two days at the Red Rock Resort in Las Vegas. Sign up today!