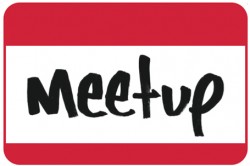 Mark your calendars! If you missed your opportunity to attend our last meetup, you'll get another opportunity to meet with your peers this month at a location near you.
What we've seen from the ERE community has been great so far: Over 1,500 participants in more than 200 locations worldwide have participated in local networking events making it one of the largest meetup groups on Meetup.com. You can see some of the pictures on our Facebook fan page from the last events.
We're looking forward to seeing you all at the next ERE Meetup on Tuesday April 19th, 2011. As was the case in the last one, we need your help organizing them in your local area. Here is how you can help us:
Visit the ERE Recruiter Meetup page and sign up for a Meetup near you. If you don't see one in your area, start one up!
If you know a great location (bar, restaurant, office) where your group can meet, add it to the Meetup.
Help us get the word out! We don't need a huge group in each city to get together, have a good time, and make great connections. It can be as few as half a dozen, but the more the merrier, so tell all the recruiters in your area about the Meetup!
We hope you can join us again!