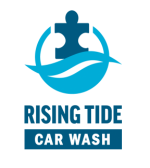 A Florida car wash is celebrating its one-year-old birthday. Sure, it has stayed in business and tripled its customer base.
But that's not why it's news.
The Parkland, Florida, car wash, called "Rising Tide," has as its main mission to employ people with autism.
The company has more than 30 employees and says it is one of America's largest employers of autistic people. Unemployment in that group is somewhere around 90 percent.
The founders of Rising Tide each have a relative with autism.
Employers (like SAP) in Denmark, Chicago, and elsewhere have initiatives to employ people with Asperger's, which is related to autism.