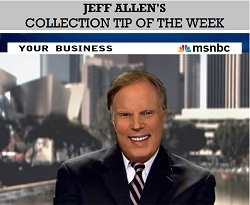 Editor's note: Jeff Allen has heard every employer excuse you can imagine for not paying up — and dozens more that defy imagination. A few years ago he began documenting them in a weekly collections column. Because of the importance of collections, Fordyce will periodically reprise the most common situations he addressed.
What Client Says:
We acquired rather than hired the candidate.
How Client Pays:
Merger mania has made many opportunities for machinations. The usual line is that since the client became or acquired another company, it acquired your candidate who worked for that company as well.
Don't try to figure this out on your own. Gather as much information as you can for your attorney. First call your stockbroker. He'll be able to access the records of publicly-held corporations and provide a wealth of information. Then, go online. Google the names of all businesses involved, all principals, and anything else you think might help put the puzzle together. Then check in your library for publications that profile businesses. Among them are:
Dun's Business Rankings
The Facts on File Directory of Major Public Corporations
Moody's Manuals (Banking and Finance, Industrial, Transportation, etc.)
Reference Book of Corporate Management
Standard & Poor's Corporate Register
Standard & Poor's Corporation Records
The Wall Street Journal
Ward's Business Directory
A merger or acquisition doesn't necessarily affect your right to be paid. In fact, it often will accelerate payment if the transaction is being supervised by the SEC, FTC, or some other government agency.
The issues are extremely complex, relating to such things as:
Liability for outstanding indebtedness of the merged or acquired company;
Whether the placement was sufficiently executed to invoke liability for the fee;
Whether the merger or acquisition included a transfer of all employees.
With sufficient information given to a sufficient attorney, you should be able to sufficiently recover your fee. Too many are lost in the amazing maze of these machinations.
Do your homework, then make your move. The vast majority of the time, there's a full fee just waiting to be claimed!