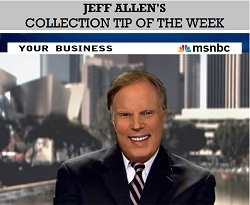 Editor's note: Jeff Allen has heard every employer excuse you can imagine for not paying up — and dozens more that defy imagination. A few years ago he began documenting them in a weekly collections column. Because of the importance of collections, Fordyce will periodically reprise the most common situations he addressed.
What Client Says:
You didn't check references.
How Client Pays:
It usually happens like most placements — no documents back from the client. Who cares? The hiring authority is returning your calls, interviewing, and even expressing interest. Would the client like you check references? "No thanks. We do that ourselves."
Then there's a hire, and you think it's a placement. But you're arguing "a five-figure fee for a phone call." It's a good argument, since a placement fee is a finder's fee. It would be an even better argument if you didn't overstate your "consultant" role in your written materials. Or that you only refer "qualified" candidates.
It gets worse. Do you write that you "screen," "check," and "verify"? Carefully?
These words move you away from a finder's fee — a bounty – and impose additional conditions on your right to claim it. In fact, as part of common law (original, judge-made law) contract pleadings, you must state on the complaint:
Plaintiff has performed all acts to be performed, and otherwise complied fully with all terms, covenants and conditions set forth in the agreement between the parties, and is entitled to the full placement fee herein.
The best way to avoid the defense that you didn't check references (and a host of related "didn't do enough" defenses) is to go through your fee schedule and eliminate any marketing overstatements.
Please do that now. This nonsense is so easy to avoid!