Note: Barb Bruno is one of the most in-demand trainers and conference speakers in staffing and search. We asked her what questions came up most frequently this year during her presentations. Over the past few weeks Barb has shared these questions and her responses.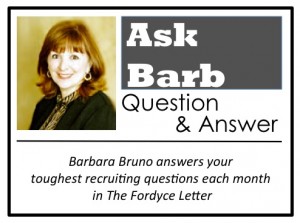 There have always been resources to attract and hire talent. In the past there was concern that classified ads would replace recruiters, then job boards and now LinkedIn. One of the greatest challenges in this competitive market is how to attract, hire and retain top talent. Corporate recruiters play an extremely important role in helping their employers attain those goals. Most recruiters in our profession are specialized, have a pipeline of top talent and can fill the hard to find and difficult positions that would take up too much time of a corporate recruiter.
We can also help companies compliment their core team of employees with a flexible work staff consisting of temporary and contract workers. US News and World Report describes the contractors in the outer ring as "knowledge workers. Their work is no less important as they are often responsible for day to day tasks and critical projects, but turnover in this ring is not as disruptive as it would be within the core group."
You will not be replaced by LinkedIn, corporate recruiters or job boards if you continue to represent the top talent you clients will hire.