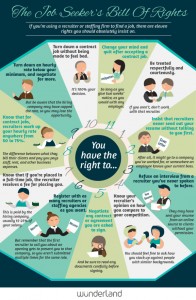 Six year old Wunderland Group says too often job seekers don't have a clear understanding of what a recruiter "can and should do for them." To help them, the Chicago-based staffing firm created what it calls "The Job Seeker's Bill of Rights."
In a fashion worthy of the creative agencies for which it sources and places direct hires, and temp and contract workers, Wunderland designed an infographic detailing 11 rights. Among them are the rights to:
Know your recruiter's opinion on how you stack up against candidates with similar backgrounds.
Negotiate any contract or agreement you are asked to sign.
Register with as many recruiters or staffing agencies as you want; however, remember that the first recruiter to call you about an opening gets to present you to that company. Otherwise, you may be submitted multiple times for the same position.
Know that if you're placed in a full-time job, the recruiter receives a fee for placing you (usually 15-25% of your salary, paid by the hiring company).
Click the graphic to see it full-size.