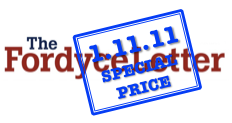 Today's unique date only comes around every 100 years (although, ten months from now we will have the even better 11.11.11).
So to commemorate 1.11.11, we are offering an 11% discount off of The Fordyce Letter subscriptions as well as pre-registration for the Fordyce Forum 2011.
We are planning to launch the Fordyce Forum event site in a couple weeks, but if you would like to pre-register for the conference and receive an additional 11% off the early bird price, please email me and we will put you on the pre-registration list. Once the event site launches, you will have one day to register for the additional 11% discounted price.
If you would like to subscribe (or renew your subscription) to The Fordyce Letter print publication, please also email me and we will set you up to receive the 11% discount on your subscription. The Fordyce Letter has been in circulation now for 40 years and is considered the gold standard of knowledge and information for third-party recruiters. In fact, it is the ONLY publication in existence that caters specifically and exclusively to the search and placement community.
In addition to our Fordyce discounts, our parent company, ERE, is giving an 11% discount for all our products today, including:
To take advantage of these discounts, use the discount code — eleven — before midnight tonight when ordering or registering for an event.
Have a happy 1.11.11 – see you in Vegas this June for the Fordyce Forum!